An Artist's Triple Crown Musings
Like so many racing fans, I have been hankering for a Triple Crown winner since I knew what the Triple Crown was. Technically, I was alive for the three winners in the 70's, if not fully aware. I just hadn't discovered the significance yet to tie it into my already rampant horse obsession (I was 6 when Secretariat won).
Even though I was your garden variety "horse crazy girl", it wasn't until 1980 that I started putting aside my Breyers and developing an interest in racing through reading books like Old Bones the Wonder Horse (about legendary gelding and Derby winner Exterminator), and of course Walter Farley's classic Black Stallion series (and yes, the cover illustrations played no small part in my inspiration to be an equine artist) … these were books I gobbled up like candy.
Then, I watched the Derby for the first time as a fan, fully aware of the importance. I thoughtfully selected my pick to win (the filly, because well, she was a girl – my handicapping skills have improved since then, not much, but some)… and she won! Genuine Risk became the 2nd filly in history to win the Kentucky Derby in 1980! That was it, I was fully and inexorably hooked on horse racing, no going back.
However, a few years before that in my earliest memory of watching a horse race I do recall seeing a horse named Run Dusty Run, and an unshakable bond was instantly formed, (of the variety that could only happen between a 10 yr old girl and a horse on TV). It only stands to reason that a horse that shared a name with my beloved Golden Retriever, Dusty, a happy go lucky dog who… and here's the kicker… LOVED TO RUN, was destined for greatness! So imagine my profound disappointment when he ended up 2nd.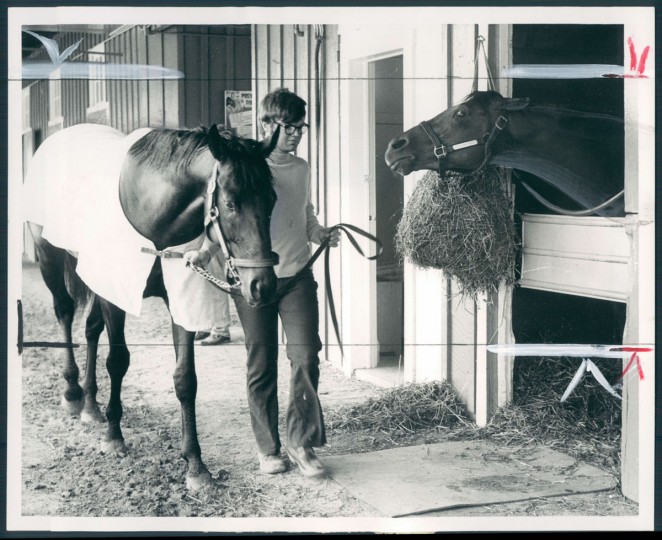 The year was 1977, the race was the Kentucky Derby and the winner, who's name never registered with me at that time, was Seattle Slew. Seattle Slew would go on to become the 10th horse to win the Triple Crown. It wasn't till years later that I learned the race "my" Run Dusty Run had fallen so short in was the beginning of Slew's Triple Crown run. It was a great and historical moment I witnessed yet somehow completely missed. I won't lie, the shame as a horse racing fan was substantial.
I think that's part of what drives my need to not just see, but embrace the journey of any horse that might be the heir to the throne – along with the seemingly inevitable disappointment. Of all the horses that arrived at Belmont Park with a Triple Crown on the line, some I naturally held in higher regard than other's. Sunday Silence, Silver Charm, Alysheba all hurt… and then last years hope, California Chrome. Ouch.
I'd already started working on a painting of California Chrome before the Belmont, but afterwards the bitter pain of his loss soured me on continuing. It got put aside, halfway done, yet another near miss that I didn't want to be reminded of. Then life got in the way, plenty of other paintings, the Woodford Reserve commission, a move… and as I was unpacking paintings a couple months ago I found this piece and pulled it out again. I remembered why I wanted to paint this horse to begin with, not because he might have been a Triple Crown winner, but because he was a striking and beautiful athlete. This needs to be finished, I thought, he's no less a horse than he was when I started it painting it.
So I worked on it as I watched American Pharoah's march into history though the Kentucky Derby, the Preakness and finally, the Belmont. It served as a great reminder that there are many horses to enjoy at all levels, even as fate finally throws us a bone and delivers on something that could only be as important as it is because it's so hard, so rare.
Watching American Pharoah cross the finish line first in the Belmont was even more emotional as watching the others fall short, but it was a different emotion. One of hope with a sprinkling of gratefulness that the others didn't succeed, making this so much sweeter. Laura Hillenbrand, acclaimed best-selling author of Seabiscuit and Unbroken, sums it up perfectly:
"American Pharoah, welcome to greatness."
Will there be an American Pharoah painting? Most likely, but as always it has to be right, and I am going to explore the possibilities while I bask in the glow of having witnessed the birth of fresh, shiny new greatness.